Another great new feature to add to your customizable live chat software suite!
Mark another great new addition to SYNCRO's already highly customizable live chat software feature list. Customers can now make bespoke changes to their website chat bubble and background all from one easy to use field.
One of the top questions we get is, 'Can we change the colours of the chat window and the chat bubble?' We are happy to report the answer was always Yes!, but now it's even easier than ever!
One easy place to change it all!
Customers can now set a custom colour for their chat bubble background colour under settings in the advanced tab of their control panel. Once the colour has been set, the customer will notice that the expanded background behind the chat fields will also carry the same colour theme. This is a much more efficient way for customers to adapt the live chat to text software to match their businesses brand guidelines.
SYNCRO now has the ability to set the colour of the BOX and the bubble in one location: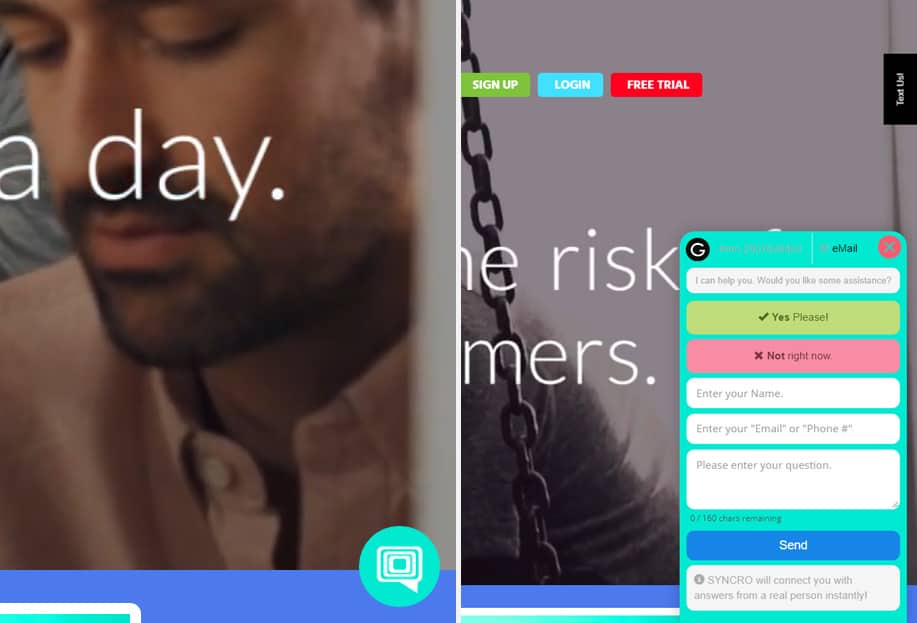 This is done by changing the one colour field here on the advanced tab.

Other features that make SYNCRO's customizable live chat software the best in its class
SYNCRO is known for its customizable live chat software, including its popular reseller whitelabel program. That's because our whitelabel reseller program offers customers the pinnacle of customization for live chat. Whitelabel partners can resell SYNCRO live chat to text messaging software to their own client base. Perhaps, the greatest perk of the Whitelabel reseller program though, is the ability to remove all of the identifiable SYNCRO branding. Whitelabel partners can replace all logos and branding and replace it with their own. This presents customers with a very streamlined option to generate more brand awareness and trust in their business as a leader in technology and consumer engagement.
Are you looking for live chat software that you can customize to suit your businesses needs? Look no further and take SYNCRO for a test drive today – sign up for a free trial of our live chat to text messaging software now!