Chat Software Plans.
Our chat software plans are simple. Get all the features SYNCRO has to offer with either of our easy to understand plans: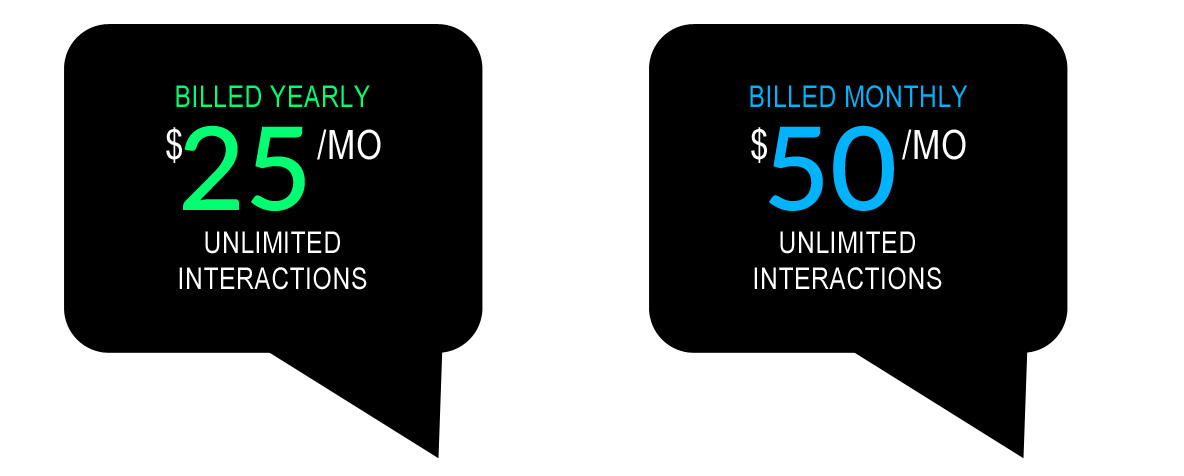 Sign Up
*

SYNCRO is now selling unlimited subscriptions to our software. As of now, there are two options of payment available – $50/mo unlimited conversations and access to tools with no contract or save 50% and sign up at $25/mo with a pre-paid subscription for the year!

SYNCRO Brokerage and Corporate level pricing, including IDX/MLS integration is available upon request, please SYNCRO us for details.
Personal Responder Avatar
Customized Call to Action Messaging
Website & Chat Statistics
Chat Vault
Chat Scheduler
Setup of One Mobile Responder Phone Number and One Call to Action Phone Number
Up to Two Email Syndication Addresses
Human Support
Track Phone Calls that come in from your website
Chat Rollover
Corporate and IDX/MLS solutions are available. Please get in touch with us for more details about our chat software.
Our White label Program
We also offer a white label program if you're interested in reselling chat software to your clients. SYNCRO has developed the most flexible and highly lucrative white label chat software program in the world. If you need to provide the most powerful lead generation, and traffic conversion tools to your team members, clients or partners, then look no further. Subsequently, we offer huge discounts on our live chat software for partners who are integrated into this program. As a result, the cost savings allow many of our customers to build new revenue streams, provide better performing tools to their partners, and build their businesses faster. If you think you want to resell our live chat software to your partners, clients or team members, then please sign up for our white label chat software program outlined below.
Before you do, please note a few quick points about our white label chat software before you fill out this long form below. We wouldn't want you to waste any time. Because that stuff's precious.
As part of the reseller program you enjoy massive discounts on licenses depending the model you wish to choose. Please see the table below that outlines the pricing options through our volume licensing model.
This is a white label in the sense that your brand is displayed front and center i.e. Powered by: Your Brand (Your logo replaces the SYNCRO logo where ever possible)
Every effort to display your brand up close and personal is taken, however some of our internal URL's and email addresses will still have the SYNCRO URL displayed.
If this sounds good then fill out the form!
Read More
Pricing for the SYNCRO Group's Feature
Our pricing for the Group's Feature is not only simple but it's also flexible, which is great for businesses who are looking to grow organically. SYNCRO Group's follows the same pricing structure as our wildly popular Whitelabel program. This makes it very straightforward and it also affords our customers with all of the same features included with our Whitelabel service.
Customer's of Groups will be able to customize their chat window to their own unique branding. All mention of SYNCRO and it's brand will be removed. This is a great opportunity for customers to increase brand awareness at the same time they improve vastly on customer engagement.
Pricing is dependent on having one primary SYNCRO Whitelabel account setup and then adding seats in 5 stages from 1 to 200+ as necessary.
Each seat represents the unique mobile number where you want to have the messages sent.
Standard Partner
For example, if you have the following departments and locations configured your billing could like this:
Billing – Vancouver
Sales – Seattle
Support – Denver
General Information – Vancouver Location #2
In this case, the account would require a Whitelabel account to begin. Each Whitelabel account costs $50 per/month.
Each additional account 2-4 would require a seat. Since we aren't quite at ten seats yet, the three additional accounts would be billed at $25 per month. In this case the user would be billed monthly for:
$50 Main Whitelabel Account/Seat 1
$25 Seat 2
$25 Seat 3
$25 Seat 4
The total cost per month to operate four departments would be $125 per month.
Starter Pack
Our next example is for our Starter Pack which starts at ten seats. Once your business requires 10 departments the pricing will look as follows:
Vancouver Location 1
Vancouver Location 2
Vancouver Location 3
Vancouver Location 4
Vancouver Location 5
Seattle Location 6
Seattle Location 7
Seattle Location 8
Seattle Location 9
Ohio Location 10
This account would also require a Whitelabel account to begin. Each Whitelabel account costs $50 per/month. However, the user now has access to add up to 23 additional seats for a flat rate of $199 per month.
It looks like the following:
$50 Main Whitelabel Account/Seat 1
$199 Seat 2-24
The total cost per month to operate between 10-24 groups or departments would be $249 per month.
These are just a few examples. For more information on our pricing please view the table below. If you have any questions, don't hesitate to contact us!
$199
10 SITES/SEATS MONTHLY
$399
25 SITES/SEATS MONTHLY
$699
50 SITES/SEATS MONTHLY

$1,999
200 SITES/SEATS MONTHLY