Here at SYNCRO we understand that everyone has a different approach to business, so that's why we've created so many live chat website integration methods.  In this article we explain each installation option,  along with commonly used integration scenarios so that you can encourage your website visitors to engage with you in a variety of conversations.
First, let's start by discussing the default, out of the box mode of SYNCRO:
Engage Mode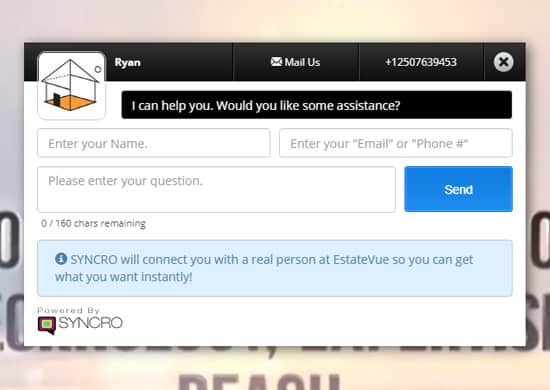 HOW ENGAGE MODE WORKS: This live chat installation mode sounds a little Star Trek, but is actually our default mode.  'Engage Mode' uses the original SYNCRO chat window style. Opting for 'Engage Mode' will open SYNCRO as soon as your website has finished loading. The chat box will appear right in the middle of your website, as if it had already been engaged/expanded by the visitor. The website visitor is then presented with a choice. They can immediately begin chatting with you via the chat window or they can click 'No' and minimize the window.  By clicking 'No' and minimizing the window, it will instruct SYNCRO to patiently wait in the tray (footer) of your website until called up again by the visitor.  Don't worry though, SYNCRO isn't that good at being patient. It has the capability to flash a few lights and make a few beeps here and there, just to subtly remind the visitor that it's still available for action when necessary.
WHEN SHOULD I USE SYNCRO IN ENGAGE MODE:  Your website was designed specifically to compliment your offline marketing.  Perhaps you are selling a product, service or solution offline and have directed people to visit your website for more detailed information.  By having SYNCRO load in immediately in 'Engage Mode', you will encourage your visitors to start chatting with you right away.  Calls to action, messaging, chat box style and colours can all be customized and tailored to your branding from the admin panel.
Next up, let's explore the possibilities around installing live chat on your website using the 'Minimized Mode' integration method.
Minimized Mode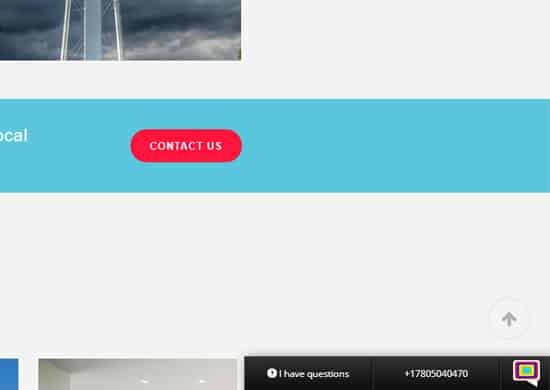 HOW MINIMIZE MODE WORKS:This live chat installation mode is great for the semi-minimalist. It's not as minimal as say our 'Sticky Chat Icon Mode'. But it's also not as in your face as the 'Engage Mode'.  Minimize, like all SYNCRO chat windows is the last piece of your website to load. When it does load, you can select how you want the chat to slide into your website. You can select left/right/top or bottom and it will slide into the bottom tray (footer) of your website.  Loading it last and having it flash across the screen allows the visitor to experience a visual queue. This queue establishes that live chat is readily available on your website.  After a period of inactivity the chat interface will make a few audible sounds and change colours. This is to remind the visitor that live service is just a click away.
WHEN SHOULD I USE SYNCRO IN MINIMIZE MODE:  'Minimize Mode' is a great option for any business wanting to encourage their customers with live chat, but not be overly pushy. SYNCRO will never push chats because all of our feedback and research suggests that people don't like to be pushed into sales. Online shoppers value their privacy. A minimized SYNCRO will however, gently remind visitors through changing colours and subtle audible sounds, that it's ready to engage when they are. 
Are you ready to learn about the next way we can install live chat on your website using our 'Sticky Mode' integration?
Sticky Chat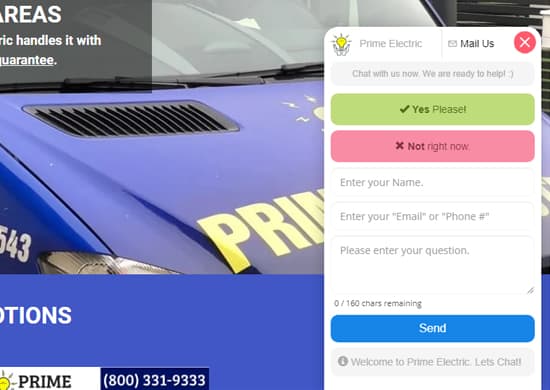 HOW STICKY CHAT WORKS:  This mode is our latest and subsequently now our most used website live chat integration mode.  The overall design of the chat tool is modern and very minimal. Sticky Chat takes up a small amount of real estate on your website therefore it has a very minimal impact on your overall design aesthetic. Using 'Sticky Mode' will see the chat window load as if it is stuck to the bottom right of the screen.  If a visitor clicks to engage the chat window it will enlarge vertically. When the user clicks the 'close x' icon at the top right of the chat tool, it is then minimized into a cute little chat bubble stuck to the bottom right of your screen.
WHEN SHOULD I USE SYNCRO STICKY CHAT MODE:  'Sticky Chat' is the way to go if you want a subtle and sublime live chat option for your website.  Those who are chat savvy will know where to engage. Yet those who want to browse uninterrupted will not be distracted by it's minimal footprint. It's the most elegant integration method for live chat to text to date. 
Now, are you ready to learn about the revolutionary way we can install live chat on your website using our 'PowerLinks and Invisible' integration?
Invisible Mode
HOW INVISIBLE CHAT WORKS:  Every great super hero has their power and SYNCRO is no different. Enter 'Invisible Mode' integration for live chat on your website. This mode is only recommended for use in conjunction with our Powerlinks feature.  Powerlinks are a unique way for a website visitor to bring up the chat window through a specially programmed link.  You can use Powerlinks to program graphics, buttons and even text to call up a chat window at any time.
WHEN SHOULD I USE SYNCRO INVISIBLE AND POWERLINKS MODE:  'Powerlinks in Invisible Mode' is literally the coolest thing since sliced bread. With Invisible Mode and Powerlinks you can transform your website into an engagement fest. The possibilities are endless. Program custom designed graphics, buttons and more with live chat. Powerlinks are the ideal live chat solution for websites with multiple sales channels. Using Powerlinks will allow you to direct chats to specific users. For example if you are running a large real estate brokerage, or car dealership Powerlinks will efficiently route leads to the right person. This effectively removes the need for a centralized admin to dispense leads. Powerlinks change the live chat game for websites with multiple operators/agents required at any one time. 
Below we explain how to successfully set up 'PowerLinks and Invisible' mode with SYNCRO. Need help?  Reach out to us now!
STEP ONE:
How to set the Start Mode
Setting the Start Mode is very simple:
First click on Mange Sites.

Then click the Manage button next to the site you wish to edit.
Then click on the Settings tab at the top right.

You will be taken to the General tab and this is where you can choose your Start Mode.

Lastly click the Save Changes button at the bottom of the page.
Step TWO:
Create your Powerlink Graphics
Our Powerlinks tool allows you to add a graphic or text link anywhere on your website that can call up the chat tool. You can create custom graphics like this one below, which was designed for a customized chat bubble design.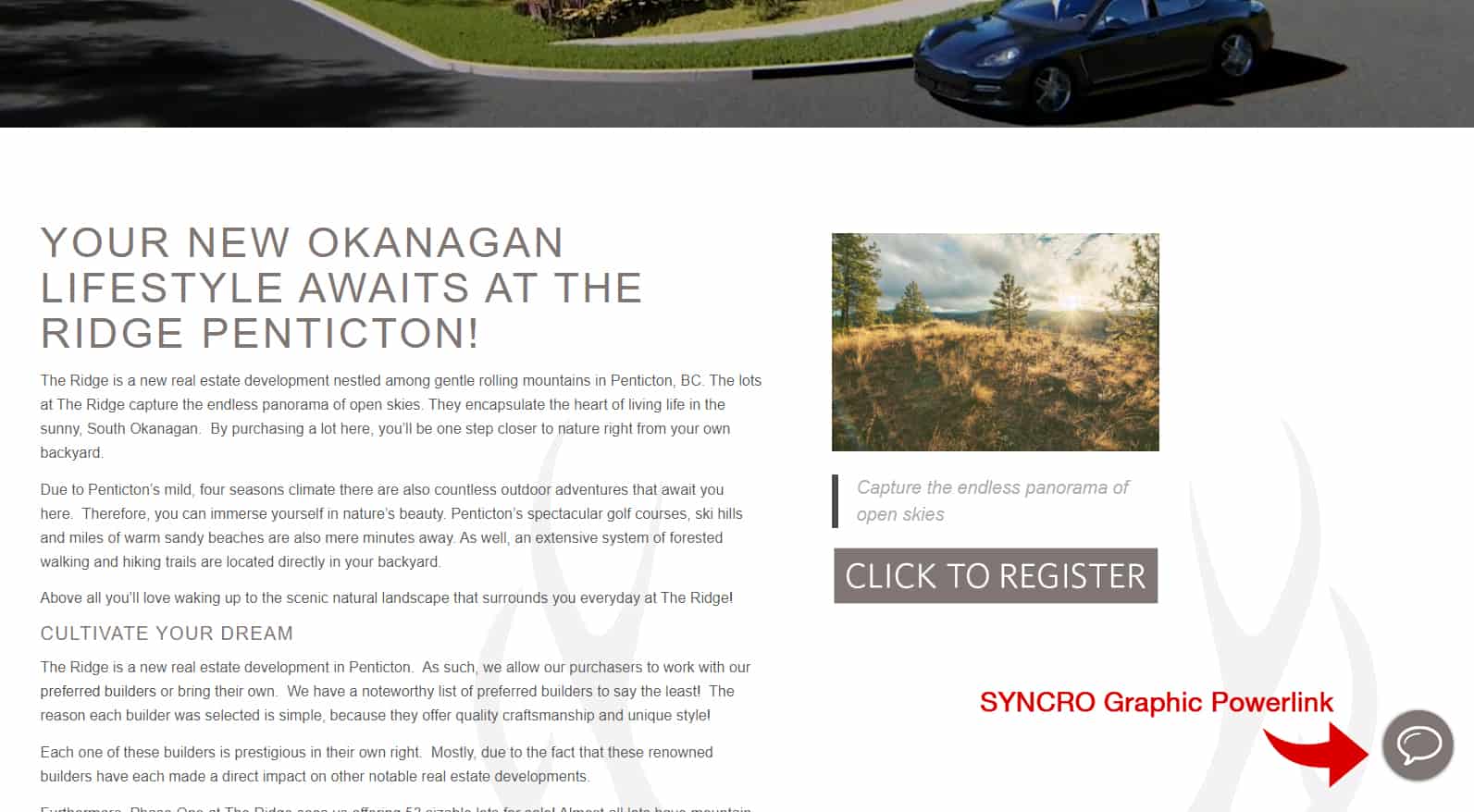 Or you can do something like this custom designed graphic below as a call to action for SYNCRO live chat to text.  You can click here to see a live example of this Powerlink in action.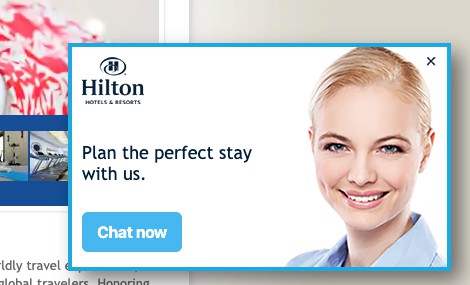 Step THREE:
How to program a Powerlink
Like everything in our software, setting up a Powerlink is also very simple:
First click on Mange Sites.

Then click the Manage button next to the site you wish to edit.
Then click on the Settings tab at the top right.

Next click on the Powerlinks tab, and then click the Add New button.

Now here is where you can choose the type of Powerlink (Graphic or Text) and enter your settings.  Once you have filled in your information then click the Save Changes button. Your Powerlink has now been created and is ready for you to manage.

Next you need to click the Manage button next to the new Powerlink.

Scroll down to the bottom of the page and you will see the instructions and embed code on how to integrate your Powerlink. IMPORTANT: As per above, make sure that the Start Mode is set to

Invisible

Mode.
You've chosen your integration method. Now it's onto the fun stuff. The Grand Finale of SYNCRO Customization!9>
Styling your chat window
SYNCRO is built for individual communication. So, obviously we had to make
First click on Manage Sites.

Then click the Manage button next to the site you wish to edit.
Then click on the Settings tab at the top right.

Now click on the Advanced tab.

Scroll down and you will find a section called Customize SYNCRO Window Chat. This is where the magic is! Once in here you can adjust the colours of the chat tool in real time. So, go ahead have fun and make your chat window work with your brand!  Don't forget to save your changes.

Lastly, click the Save Changes button to save your work. For redundancy sake 🙂
At SYNCRO we're always looking at new ways to innovate and stay ahead of our competitors.  Our multiple integration methods allow you to do the same, while staying engaged with your own customers.  For more information about SYNCRO – SYNCRO us us now.   If you're interested in signing up, then please click here.