The Single Website Install :: Part 1 in our integration point series :: A Walk in the Park.   
SYNCRO was designed to be easy to install and integrate in multiple scenarios. This is the first part of our series titled SYNCRO installs :: A walk in the park. We have a few different ways to get SYNCRO into your website, from tying directly into US and Canadian real estate MLS/IDX data feeds, to agent rosters, power linking, single website applications and third party API's, but the first thing we need to determine is how you do business and who you are trying to connect with.
Take a read through this multi part series and see which instance is right for you. We're going to start with the most basic description of a SYNCRO installation and we'll work our way through to the more advanced.
SINGLE SITE INSTALL:
The single site install is great for entrepreneurs who also handle the sales aspect of their business, real estate agents with a team of 3 or less, mortgage brokers with a team of 3 or less and virtually any other business that wants to convert their website leads using mobile without having to download an app.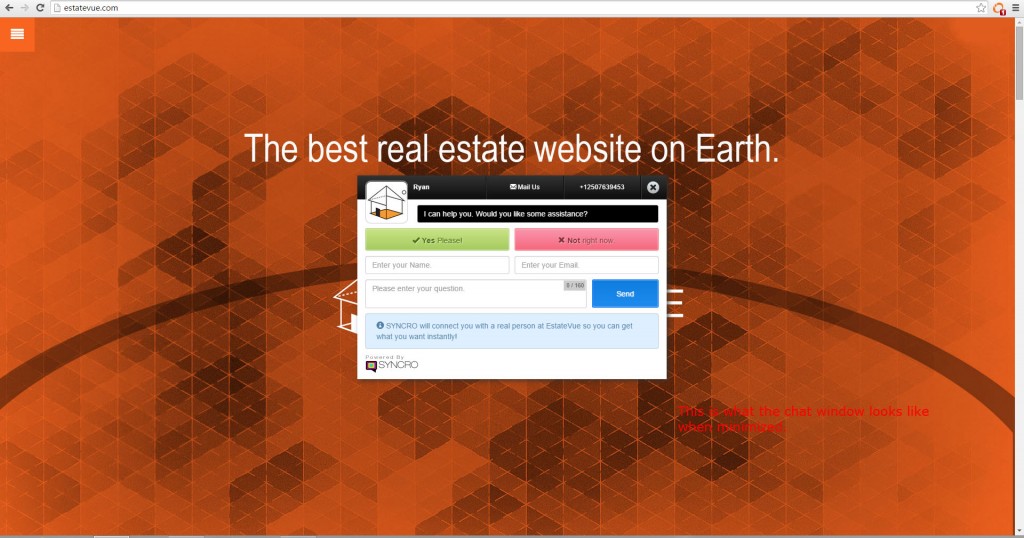 The single site install is very simple to embed within your existing website and can be implemented by using the sign up process here. This sign up wizard will walk you through a few simple steps to get SYNCRO up and running within your website and if you hit a snag on the FTP details or what you need to do with that embed code at the end of it all, there's a convenient HELP option.
Selecting HELP will alert us that you need some extra guidance from our support team.  As soon as this alert reaches our team we will swoop in to save the day and get your install back on track. Our team is trained to get you off to the website chat to text races without any cost to your business because the beauty of our install support is that it's absolutely 100% free.  Whether you want to handle the install on your own or have us do it for you, it will still cost you nothing and it should only take minutes either way.
Once set up, the single site install will operate in a similar fashion to how you see the website chat option on this website. The chat window is nestled neatly into the bottom right corner and it waits for a customer to engage and interact with you. We have a number of other ways to pin the chat window to the website window including an unobtrusive chat bubble that locks to the side of the browser with a subtle blinking effect to catch a customer's eye.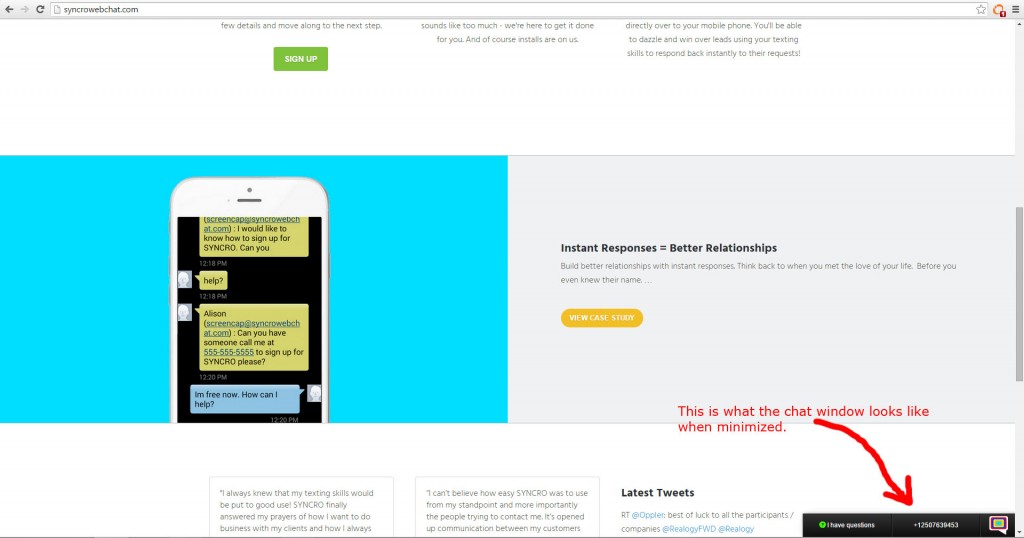 With a single site install you can personalize your avatar photo, your click to call number, and your welcome message to engage potential clients. You can also choose to enable the chat scheduler, the chat rollover and the chat trigger messaging.
The single site install also comes with real time reporting and web stats and is a great, easy way to increase conversions and track leads.
Pricing for the single site install is $10 per qualified incoming interaction or $50 per/month for unlimited chatting. Your first 10 messages are free to take it for a test drive.
Those are the basics of the single site install. It literally takes 5 minutes to get you signed up and have SYNCRO working in your site. If there are any problems at all give us a call, use the help button at the end of the signup process or SYNCRO us and we'll be happy to help you get up and running.
Stay tuned for the 2nd part of this series.
How to integrate SYNCRO into a brokerage or banner website.