There are many live chat companies who claim to be the leader in text to chat, but SYNCRO is the true winner!
Live chat companies are everywhere you look. Sometimes finding the best one to use for your business can prove difficult. Considering that there are so many apps, so many features and so many methods for message delivery. It's easy to see why some people just give up on their search. Only to circle back around and start looking for a provider from scratch a few months later, because let's face it – your website isn't successful without chat. It can be a vicious circle. Who knew that there could be so much churn in such a niche space. Companies that weren't around 6 months ago are popping up claiming to be the latest and greatest. The latest and greatest live chat companies from 6 months ago are no longer to be found. If you've ever been tasked with the job of researching the best live chat companies out there, then you know the drill. SYNCRO has all the benefits, features and simplicity that you're looking for in a live chat provider, so let's dig in and learn why.
Live chat companies that deliver messages via apps are not doing you any favours!
Apps are commonplace. In fact, they were so commonplace that everyone made a mad dash in the early 2000's to develop an app. The problem was that not everyone needed an app – they just thought they did because, well, everyone else had one. That keeping up with the Jones' attitude saw thousands upon thousands of useless software apps created and available for download without abandon. You could find an app to tell you when to water your plants, pick up your kids, and of course when you should eat, exercise, track calories, sleep and let's not get into the work productivity apps that came about. Real estate agents were developing apps that linked to their website. Think about that for a second. An app so that you can link to your website. Isn't that problem solved simply with a URL? Our point is not everything, business or person needs an app. This is also true for live chat. While apps can unlock some nice features related to styling, the core function of live chat is best served simple. That is the gap in the market that SYNCRO serves and it's what makes us one of the best live chat companies in the world – today and 6 months from now;) SYNCRO does not require an app to work. It works with basic text messaging and that in itself ensures that delivery is easy. Responding, engaging and tracking those leads is also finally at your fingertips. All of this is available without having to ever login, install or update an app.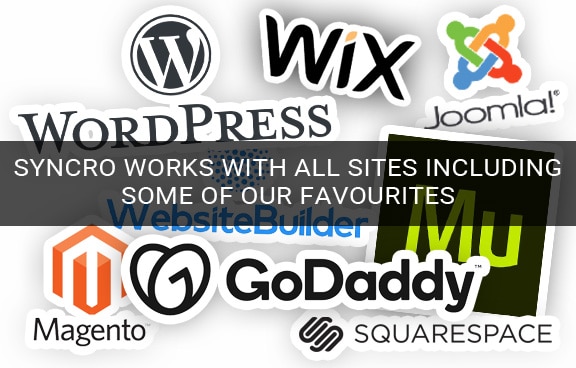 The best live chat companies have all the features without all the complicated stuff.
The more features the better right? Maybe, but only if you can easily utilize them. I mean, what good is 6th gear if you're only ever driving in school zones? Not handy at all actually. That's what we've discovered with so many other live chat companies. They load up their CRM's and services with a litany of features that only 1% of their customers understand let alone use. SYNCRO is different because our goal has always been function over fashion. We took the simplest form of communication and we made it reliable, and easy to use. The features are all there but they're clear, concise and applicable to an entrepreneur. Like an autoresponder and a chat rollover feature to name a couple. While we show no love for apps, we do recognize their place in the world of business. That's why we also made certain that our software works with the biggest cheese in the world Google. SYNCRO is one of the few live chat companies to integrate with Google in the most seamless way possible. So don't be misled into thinking you need more than reliable lead delivery because reliability is the single most important feature in a great chat to text system.
Are you ready to work with one of the best live chat companies in the marketplace? Sign up for SYNCRO today and give us a try!