SYNCRO helps real estate offices move and shake during the Global Pandemic with 'Agent on Duty' software.
There couldn't be a better time to take a good hard look at your online marketing strategy, since the introduction of Covid-19 into our society . The way we interact from this point in time forward has forever changed. That is without question. The things that we did before Covid to market real estate properties require a thoughtful, new approach.
Real estate agents and brokers still need to list and sell properties. Due to the Coronavirus Pandemic however, they are now faced with additional challenges to solve. It is our belief that SYNCRO can help to bring back some normalcy. Simply by adding a technology twist to traditional real estate tools. Especially related to lead funneling through an Agent on Duty style roster.
Real estate offices, like many other brick and mortar spaces, have become veritable ghost towns. Cautious agents are heeding government stay at home requests, leaving brokers to navigate this new normal with a skeleton crew.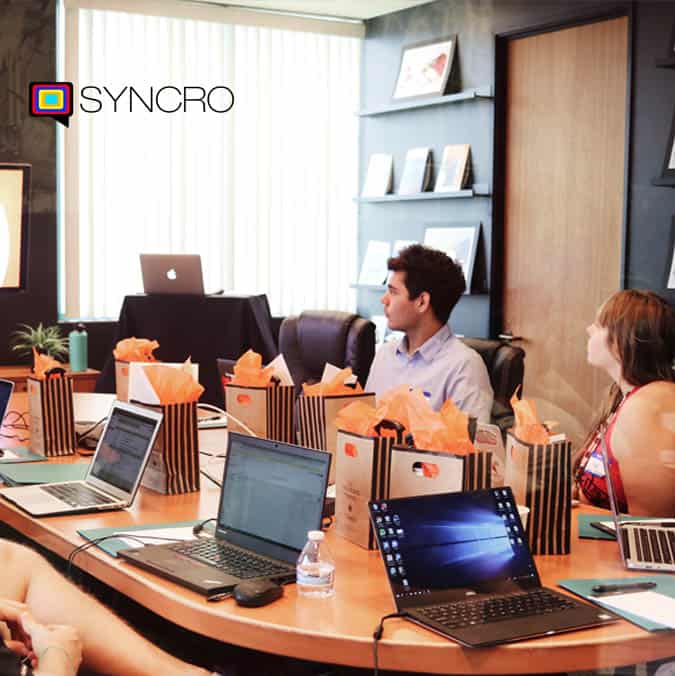 In days past, the real estate office was a happening place. Multiple easygoing front desk staff were on hand to greet you with friendly smiles as you entered. They would grab you a coffee while you waited for your meeting. You could sit and read a magazine as flurried groups of buyers, sellers and agents breezed through the common spaces to tightly packed meeting rooms. Agents lingered at each other's desks, outside offices and chatted around the proverbial water cooler. Of course, who can forget the monthly sales meetings, staff breakfasts and working lunches that routinely took place in these busy spaces. Guest speakers were flown in, conferences were planned, life was good and always busy around the real estate office.
Bring back the hustle, while keeping away all the extra bustle.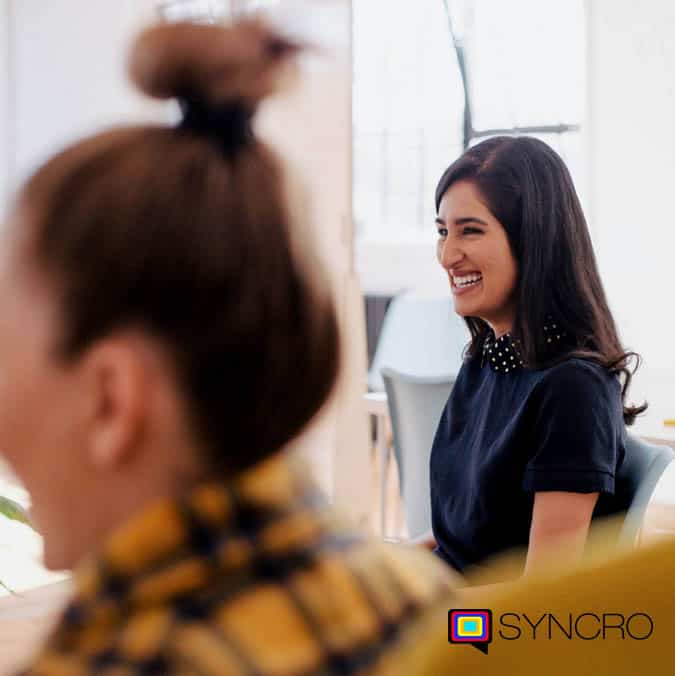 Brokers are now navigating a totally new routine. Gone is the hustle and bustle that once personified the old adage of moving and shaking. Buyers, sellers and agents are now met with warning signs pasted thick on entry doors. Hand sanitizer stations and Plexiglas is what greets you if you dare to enter. Behind the Plexiglas, you'll be lucky to find even one weary staff member. Rather than a boisterous greeting they will likely be very nervously applying their hand sanitizer for the 100th time that hour. Who can blame them? After all, the threat of contracting the virus is real. Since no one can predict how it will affect each individual's health, it's fair to say some folks are rightfully concerned about contracting this complicated bug.
As such, the real estate office, like so many other professional spaces, has become a place you only visit if absolutely imperative. Meetings have gone virtual with Zoom. Open houses have been substituted for online virtual tours. Potential showings are scrutinized. Sellers ensure that you're not only qualified but healthy ahead of time. Once there – it's masks, hand sanitizer and a laundry list of showing rules. Rules such as, leave all your doors open if you're a seller and bring a mask if you're a potential buyer are commonplace today.
Purpose built software so your Agent on Duty becomes an uber efficient lead machine.
It's a given that people will still need to move. Early statistics are telling us that even during a global Pandemic, people buy and sell real estate. The question is, how do we effectively connect and communicate to facilitate these potentially risky moves in today's hyper cautious world? When everyone isn't able to gather safely in one place? For now, the only answer lies in good technology.
Technology can connect us. It's no substitute for a genuine smile or face to face conversation. But if there was ever a time to admit that everyone really is looking online for real estate, that time is now. Potential buyers are no longer flippantly walking into brokerages to seek out the Agent on Duty. This is a good sign that we need to turn to new technology in order to adapt to the change. Preferably technology which will assist people in performing basic communication methods effectively. Which is why we're dusting off the features of the SYNCRO Agent on Duty texting software for live chat.
Everyone knows that SYNCRO was bred to serve the real estate industry. That's why it's no surprise that this complex and highly customized real estate feature which incorporates texting into your Agent on Duty software features, exists only in SYNCRO's unique technology.
Using live chat on your website is the equivalent of that busy real estate office some of us are yearning to have back. We can have real, live, one on one conversations with anyone who stops by the brokerage or agent's website using SYNCRO. No social distancing required to break the ice with a new client and no mask necessary. You can conveniently pitch your office listings at any time of day, from wherever your stay at home location happens to be. By using your own basic texting service from your mobile phone you can act as if you're still at your desk.
It's like a physical Agent on Duty – only improved with texting.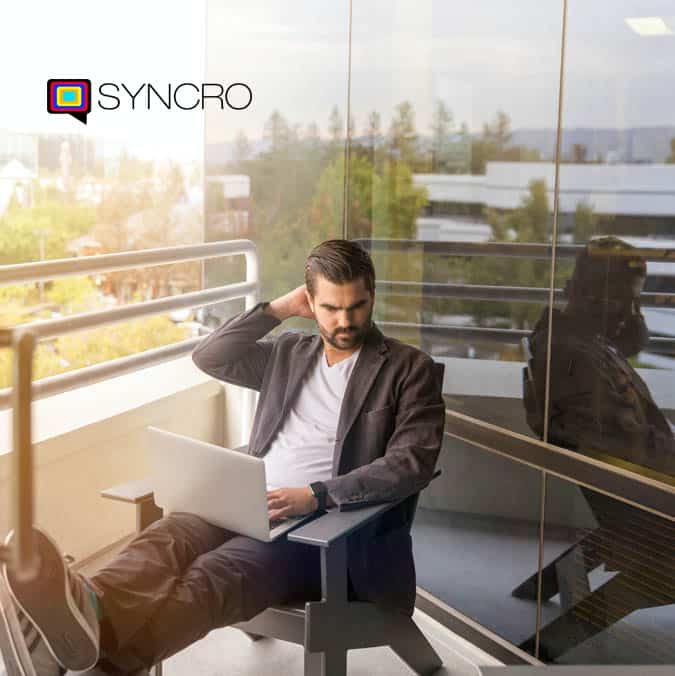 It's purpose driven technology like SYNCRO that makes it easier to keep some semblance of moving and shaking possible in today's world of commerce. Adding in functional layers like the Agent on Duty software make it easier to do business the way you used to but with greater efficiency. Traditionally, the Agent on Duty was just one person who volunteered their time to assist any unannounced walk in traffic.
On the off chance that someone came through the doors, the Agent on Duty would be of service. If multiple people came through on that one day however, it would be difficult for that person to serve all people at once. Not to mention the odds of that ever happening were rare. In fact most brokerages will attest that the Agent on Duty board was collecting dust even during pre-Covid times.
SYNCRO's Agent on Duty software tool changes all of that.
Our virtual Agent on Duty texting tool is inexpensive. It only costs $5 per active real estate agent to add. Yet the return on investment is phenomenal. This is simply because most brokerage websites will generate more "traffic" than their brick and mortar office – especially during a Pandemic. Communicative agent's are now center stage on the virtual front lines. Your website can now be used to greet and converse with hundreds, if not thousands of potential buyers and sellers – daily. All from one place and all directed conveniently to their cell phone via a very simple scheduling system.
Tools like SYNCRO may cause some brokerages and offices to never look back at how things used to be. Especially when they start seeing improved customer service translate to more sales, happier agents and bigger bottom lines.
The future is forward and tools that utilize text messaging help to propel us there.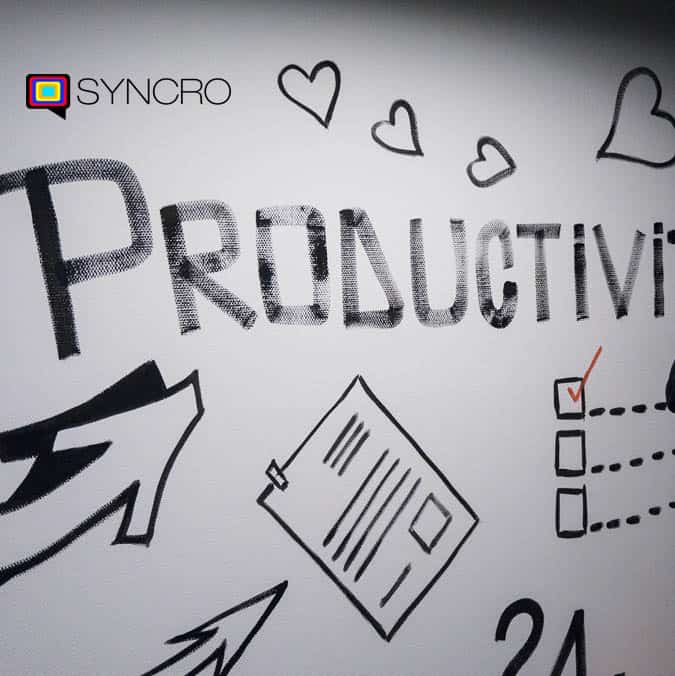 The Agent on Duty tool works in conjunction with our back end scheduler. It looks like any other online calendar system, so it's familiar for anyone to use. It allows the administrator to drag and drop an agent's name into any day of the week. Then the administrator can set the hours that agent is available to chat. It's just that simple. All chats from the website are then sent to the Agent on Duty via text message. They are then able to conveniently respond via text message, email or phone. Information including, visitor contact details, conversation logs and more can be accessed by the administrator at any time. This ensures transparency between the brokerage and the Agent on Duty.
The chat tool allows for complete customization to your branding, colours, and more.
SYNCRO helps to promote productivity among your agents who now find themselves working from home. It will help agents feel connected to office leads. It helps agents without big marketing budgets keep a foothold in the industry by connecting them with the parent site.
The only hard part is deciding who gets the next turn!
Are you ready to try out the Agent on Duty feature? Please reach out to us to set up a free demo account today! Your agents will love the simplicity of SYCNRO website chat to text!