Chat bubbles are the new contact forms for mobile sales leads!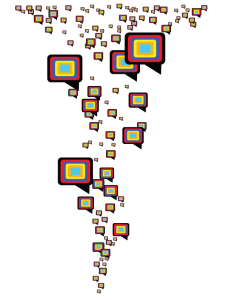 What is SYNCRO all about and why did you build it?
SYNCRO was originally developed to help our existing SEM (Search Engine Marketing) clients convert their web traffic into instantaneous leads. We found that there was a massive shift in abandoned contact forms and we knew there had to be a better way to capture and captivate that online traffic and provide them with the immediate answers they were craving. We searched high and low and found that the only options for chat tools were support centric and were either designed for computer to computer chats or required a sophisticated technology user that could download platform/device specific apps and or had the latest and greatest in both web and mobile tech.
So we made SYNCRO. SYNCRO is designed for any small to mid size business with a sales team that drives web traffic, who need to increase online conversions because contact forms are becoming obsolete, especially where mobile is concerned.
SYNCRO is an online communication tool that provides instant lead gratification by sending website chats via text and vice-versa.  This results in an overall increase of website conversions and sales.  Unlike the competition, our chat tool does not exist in the real estate marketing or CRM space. Nor do generic web chat companies offer this product without an app or mobile phone specific platform to download. There is no other sales centric chat tool on the market, they all focus on support.
SYNCRO focuses on simplicity and ease of use with no app to download, no special mobile or website required, and FREE model/pay per use pricing.  Our Company can also provide SEM marketing to bolster website traffic and increase SYNCRO conversions.